2020… The year of home life and naturally home wear.
As Corona Pandemic has affected our whole life this year, it has also affected the fashion industry
As we are ending 2020, Google revealed its "Year in Search" report, where we can see the top searches of 2020. Looking at the fashion trends of 2020, it is no surprise to see "Casual wear", "Home wear", "Loungewear" are ranked at the top. "Covid style" is also one of the top searched phrases of the year. And face masks… One of the most searched words on Google.
The Year of "Above the Keyboard Fashion"
The new normal has forced us to focus on home wear. A new concept: "above the keyboard fashion" has been added to fashion design. Hoodies, t-shirts, scarves have become more important than ever. It was clearly the year of tops which was resulted by creative collars; mock necks, turtlenecks, Victorian collars… All have been added to our "virtual meeting look". Fun elements on attires have been more important than ever. Pop Art, bright colours were the stars of the year. Novelty and fun character tops were a firm favorite again.
The Year of Retro
Another highlight of 2020 fashion has been vintage. 80's, 90's, 2000's, and even 60's styles have been used on almost everything. Tie dye of 60's, oversize jumpers with puff sleeves of 80's and 90's…  kitsch knitwear is back too. We saw anything retro-inspired becoming a trend… Along with the rise of video games. Licensed fashion is back! And in demand!
Finally, face masks, face masks, face masks
As face masks have inevitably become a health essential, they have become fashion essential too. It is not surprising to see the face coverings have been embraced by the fashion world.
Difuzed has a wide collection of face coverings with favourite entertainment and game brands.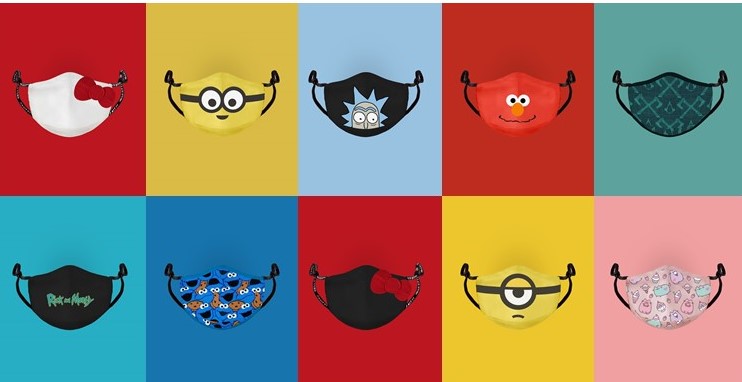 What will 2021 hold as far as fashion trends?… We can't wait to share with you some of our favorites….coming soon!